11016 :: Human Design :: 03.19.11
Date ::
19th Mar 2011
Time ::
SAT :: 10:00am - 6:00pm
Tuition ::
$75 Advanced
| $105 Door
Location ::
PB Loft | 821 Traction Ave. #108 LA, CA 90013
What to bring ::
Bring notebook & pen + please send Birth Time, Date, Place & Name to rsvp@projectbutterfly.org
Registration ::
Click Here
HUMAN DESIGN SERIES - GEARS - genetic energy and relations
Human Design, discovered by Ra Hu Ru in 1987, is a fascinating new system that synthesises the world's greatest mysticism schools including the i-ching, ayurveda, kabbalah, astrology and genetic science. Discovering your type enables you to live authentically with your correct decision making authority unlocking your true purpose. Deeper, the human design system enables us to discover our strengths and weaknesses and allows us to understand our own unique individuality. This brings us into our own integrity and gives us a greater understanding for our relationships, to our families, friends, lovers, things, and situations. This workshop provides an integral and shamanic view of human design from 8 years of practice with clients, providing deep insight in how the different types function through social conditioning and how to overcome these conditioning with simple methods as well as essential oils and flower essences to unlock your true potential.
Come discover your true self...and begin to live your life according to your genetics.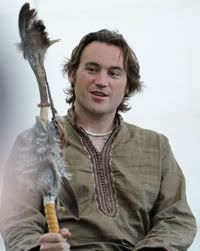 Manex Ibar
is a Basque-Celtic shaman, bio-energetician, clairvoyant, artist and sound engineer - a multi-dimensional being. After working as a high level media executive at Sony Music and then organizing U.N.E.P. environmental art events worldwide, Manex had a life rebirth and began healing people through shamanic, clairvoyant and bio-energetic practices. Combining science and mysticism, his work is a synthesis of Shamanism, Buddhism, Tantra, Energetics, Ayurveda, Astrology, Tarot, Clairvoyance and Science, leading people through deeper understanding of themselves and their life purpose.
For the last 8 years he has seen thousands of clients in Paris, Brussels, London, New York and his home in the French Basque Pyrenees. Using spirit, creativity, clarity and authenticity, Manex helps individuals find liberation of Spirit to live in harmony with nature, with joy and in abundance. Manex is Founder of
livingshamanism
and
Bio-energetica
.