11009 :: Reiki Introduction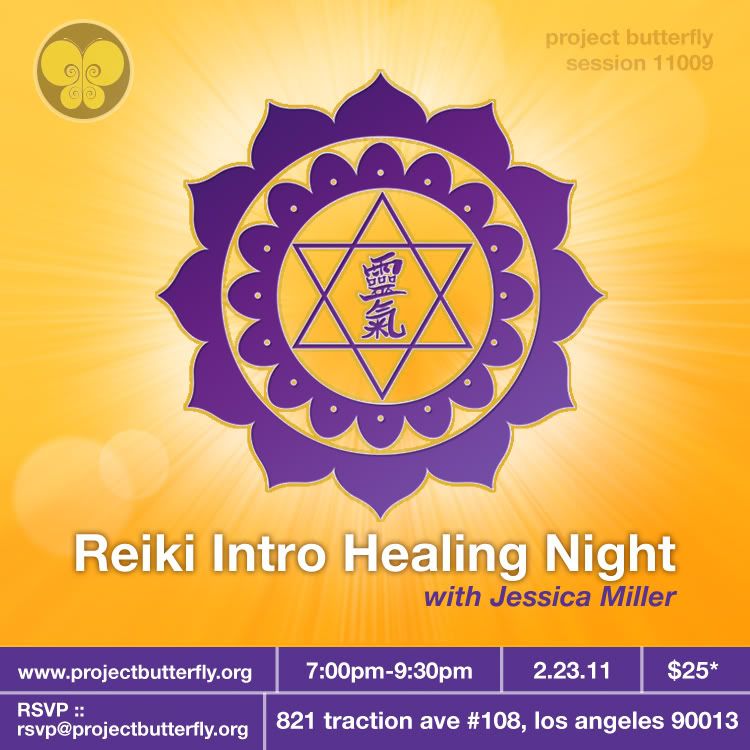 Date :
: 2.23.11
Time ::
7:00 - 9:30pm
Tuition ::
$20 in advance or $25 at the door
Location ::
PB Loft | 821 Traction Ave. #108 LA, CA 90013
Registration ::
Click here
Reiki Intro Healing Night
A great chance to experience Reiki, ask questions, and get a Reiki healing attunement with Reiki Master Teacher
Jessica Miller
. Open to all. Reiki is a modern form of energy medicine that started in Japan that anyone can learn easily in a weekend to use on family, friends, and all areas of your life, even across distances. For those with illness, injuries or phobias, this is a hands-on opportunity to see if Reiki can help. For those considering training, it is a great chance to see what Reiki is like, to ask questions and have an experience. For current practitioners it is a way to meet, share stories, and try out your skill on new people. Evening consists of questions, examples, and recent Reiki stories from participating practitioners. Then everyone receives a healing attunement to 'soak' in Reiki's healing energy. Everyone is given a 'temporary Reiki tattoo" to strengthen the Reiki energy which allows even non-Reiki people to participate and practice perceiving energy, and doing Reiki on each other.
Jessica Miller
is an experienced Reiki Teacher, Technique Innovator and Historian, who welcomes people of all levels of ability and experience to her classes. She has been a senior licensed teacher for the renown
International Center for Reiki Training
since 1995, she has written numerous articles, many of which appear on her website
Reikimastery.com
, and has studied with Reiki masters in both Japan and America.