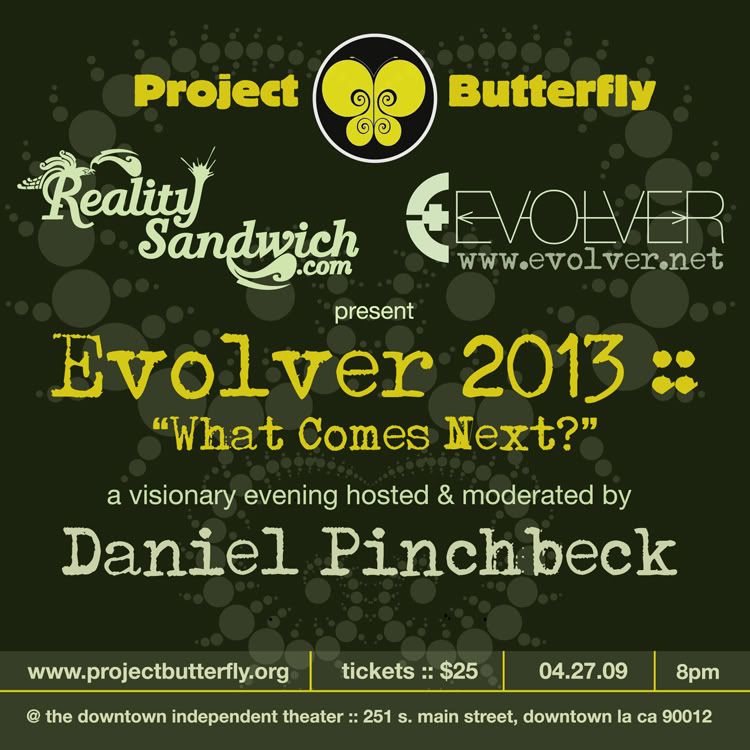 Crop Circle Butterfly by Ra One
Monday, April 27th
***DOORS OPEN @ 7pm with live music and short films***
***SPEAKERS BEGIN @ 8pm***

Project Butterfly
,
Reality Sandwich.com
and
Evolver.net
present::
EVOLVER 2013: WHAT COMES NEXT?

An event filled with visionary speakers, music, art, film and practical tools and models for proper transformation.

Hosted and Moderated by ::




DANIEL PINCHBECK
Pinchbeck is the Editorial Director for RealitySandwich.com :: A web magazine featuring essays and articles on subjects from sustainability to shamanism, alternate realities to alternative energy, remixing media to re-imagining community, holistic healing techniques to the promise and perils of new technologies. Reality Sandwich is a platform for voices conveying a different vision of the transformations we face.

Pinchbeck is also the author of "Breaking Open the Head: A Psychedelic Journey into the Heart of Contemporary Shamanism" and "2012: The Return of Quetzalcoatl", which examines prophecy through personal and philosophical approaches, and offers the hypothesis that humanity is experiencing an accelerated process of global consciousness transformation, leading to a new realization of time and space during this period.

with guest speakers::



FIDEL RODRIGUEZ :: Divine Forces Media :: www.divineforces.org
Fidel Rodriguez is producer and host of the award winning radio show: "Divine Forces Radio" which formerly aired on KPFK. DFR flawlessly blends music, education, in-studio guests, and spiritual consciousness within a theme-based show. DFR now continues its legacy on Divine Forces' Media. Divine Forces' Media creates inspirational and insightful cutting-edge Radio, TV and Film productions, conferences, and concerts. DFM focuses on facilitating cultural and popular education-based curriculums for non-profit organizations and governmental agencies. Their intention in all media relations is to assist and expand human consciousness through the art of media and auspicious projects.



LARRY SANTOYO :: Earthflow, Permaculture Institute LA :: www.earthflow.com
Larry Santoyo is Vice President and Field Director of the Permaculture Institute USA, Founder of the LA Permaculture Guild and Director of the ecological planning firm, EarthFlow Design Works, a community planning and design firm that integrates economic development strategies with ecological systems management. He has 30 years experience in natural building and sustainable landscape construction including 20 years experience as a Permaculture Designer and Educator. Santoyo also taught with Bill Mollison in Australia and in the US.



LISA RENEE :: Energetic synthesis :: www.energeticsynthesis.com
Lisa Renee is an Intuitive, Spiritual mentor, Writer, Quantum Therapist and Etheric surgeon. Lisa Renee's mission is to support humanity through its evolution with education, awareness and by discussing the impacts of the energy shifts upon the planet, human beings and human consciousness.



JOHN MARSHALL ROBERTS :: Transformational Design :: www.jmarshallroberts.com
John Marshall Roberts is an acclaimed speaker and serves as communications and consultant for several client organizations, including Evenson Design Group, a sustainable branding and design firm in Los Angeles. A former psychology professor, John's unique insight into the psychology of the communication design process has made him a prominent contributor to several pioneering projects over the past decade.

An outspoken voice within the Los Angeles sustainable business community, John is particularly interested in using his research to further the environmental movement's agenda. He works with a variety of profit and non-profit organizations to create messaging campaigns that inspire environmental action.



Ryan Wartena :: iCel Systems, Inc. :: www.icelsystems.com
Ryan Wartena, Ph.D., iCeL Systems, Inc., Van Nuys, CA, CTO for a revolutionary integrated energy systems company. iCel develops intelligent energy storage architectures with energetic awareness and geometric insights from source to load. Integrating distributed energy systems across the planet for the home, business, automotive, industrial and utility with the global communications systems. iCel is building the "Internet of Energy", because it is easier to send information about energy than sending energy.

Performances by ::



The Deprogramming Division ::
The Deprogramming Division is a sub-sect of Herwig Maurer's New World Revolution, based in Venice, Ca. This trio carefully blends diverse genres into a potion of live ambient soundscapes using acoustic and electric
instruments, featuring Adam Yasmin on Cajon and Yogi Hendlin on Hang drum.

more info and sounds at www.newworldrevolution.com and www.adamyasmin.com




Miranda Rondeau :: www.myspace.com/mirandarondeau ::
Miranda is a singer, songwriter, musician and frame drummer whose music is inspired by the inward journey. Her chanting transcends language, bypasses the intellect, and is devotional and invoking in nature.


rooftop after party with ::



DJ Jun :: www.junantazo.com ::
Hard to define with words DJ Jun is like the City of Angels itself:: rich in diversity, flavor and intensity.

+ More!


We will be celebrating the launch of Evolver.net :: a new social network for conscious collaboration and our los angeles community

Tickets :: $25

To purchase, please click on the button below::



For discounts or trade inquiries please email:: info@projectbutterfly.org

Location:
The Downtown Independent
251 S. Main Street
Los Angeles, CA 90012